Alarm Systems
Secure your property and deter the criminal, invest in one of our individually designed alarm systems
All of our intruder alarm systems are designed to meet the exact requirements of your property and daily routine and are installed to exceed the latest European and British standards using professional, insurance graded, CE rated equipment.
Our engineers always take the time and attention to detail to install our systems to the highest standard and will treat your property as if our own.
We specialise in 868MHZ wireless technology systems for our residential clients due to the following advantages over conventional wired systems.
Minimal disruption to decor
no floorboards or carpet lifting, no furniture moving!
Fantastic wireless range
sheds, garages and outbuildings are easily protected too
868MHZ technology
virtually eliminates the wireless issues of the older alarm systems using 433MHZ due to it being a very narrow band frequency – no confliction with other devices
Features wire free fobs
and proximity tags, eliminating the need to enter a code number
Wide range of detectors
door contacts, shock sensors, smoke & CO2, curtain pirs
Easily expandable
for future projects such as extensions, garages, conservatories etc
Total perimeter protection easy
no cables or conduit on doors or windows
Lithium battery technology
means battery life now extends to 2 years
Pet friendly detector options
no need to restrict pet access within property
Integral speech dialler and audio microphone
listen in to your property via your mobile and have two way speech with family members to verify identity of person on site in the event of an alarm activation
We also offer fully wireless systems as an option for bungalows or commercial properties where less disruption is required and we can also offer hybrid systems that allow both wired and wireless detectors – great for upgrading older wired systems in newly decorated properties that require additional protection.
We are also happy to take over the maintenance of existing alarm systems to ensure your existing system continues to function correctly.
All in all, we offer a solution for all your security alarm requirements whether at home or work.
Enhance your security by investing in one of our individually designed alarm systems, a vital tool in deterring potential intruders and ensuring the safety of your home or business premises.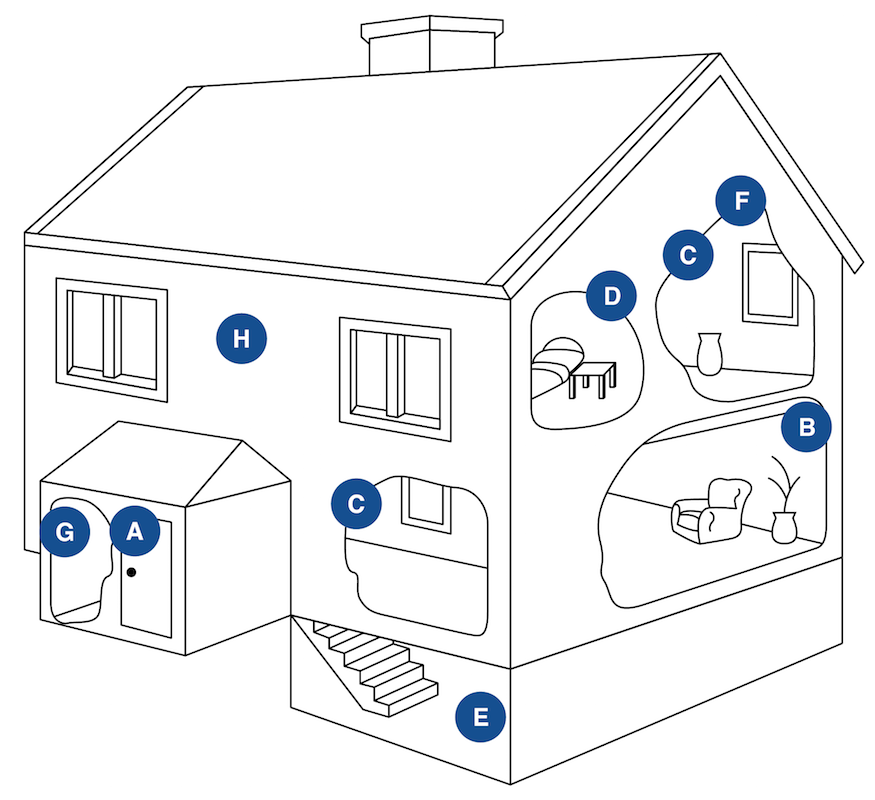 Beat the burglar!
Typical detectors used in a residential property
A – Door Contact
B – Pet PIR
C – Smoke Detector
D – CO Sensor
E – Flood Sensor
F – Internal Siren
G – Panel
H – Wireless Siren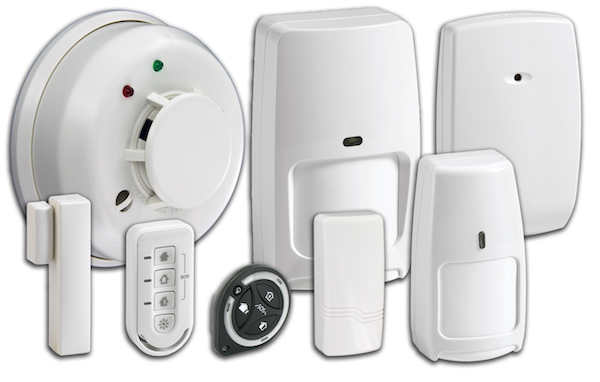 Wire-free alarm systems
fully installed at your home or business starting from £399
Protect your family, business and property with Assured Security Solutions
Call today for your FREE no obligation site survey & quote on:
0800 032 2920
or